Outdoor Recreation Satellite Account: Updated Statistics for 2012-2016
Updated statistics from the Outdoor Recreation Satellite Account (ORSA) released today by the U.S. Department of Commerce's Bureau of Economic Analysis (BEA) show that the outdoor recreation economy accounted for 2.2 percent ($412 billion) of current-dollar GDP in 2016. In data produced for the first time, using inflation-adjusted (real) GDP, the outdoor recreation economy grew 1.7 percent in 2016, faster than the 1.6 percent growth for the overall U.S. economy. In addition, real gross output, compensation, and employment all grew faster in outdoor recreation than in the overall economy in 2016.
Current Release: September 20, 2018
Next Release: Fall 2019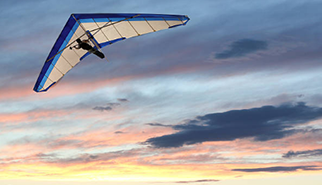 BEA has developed its first statistics showing how outdoor pursuits like snowboarding, biking and boating ripple through the U.S. economy.
Outdoor recreation and the economic activities that support it – for example, a factory making fishing lures, a family traveling to hike in a national park, or a ski instructor giving lessons – are already woven invisibly into BEA's broad national statistics, such as GDP. The new account pulls these threads of data together in one place, with expanded detail, creating a picture of the outdoor recreation economy that would otherwise remain hidden within BEA's existing statistics.
The new data add to public understanding and inform decision-making by policymakers, businesspeople and the managers of public lands and waters.
The outdoor recreation account, established by a 2016 federal law, joins other supplemental statistics that spotlight arts and cultural production, travel and tourism, and health care.
Of Interest
Background
For our prototype, BEA produced experimental statistics that allow you to view the outdoor recreation economy through two different lenses: first, a conventional definition of outdoor recreation including activities that typically require a degree of physical exertion and occur in a nature-based outdoor environment; and second, a broader definition including all recreational activities that occur in the outdoors. These experimental statistics were published on Feb. 14.
An enhanced set of statistics were released on Sept. 20. These new statistics incorporate feedback from BEA's data users and other stakeholders and provide more detailed breakouts about specific activities and more data to analyze the outdoor recreation economy compared with statistics released on Feb. 14.
Legislative Background
Federal Recreation Council Members
U.S. Forest Service
National Park Service
U.S. Fish and Wildlife Service
Bureau of Land Management
Bureau of Reclamation
U.S. Army Corps of Engineers
National Oceanic and Atmospheric Administration
---
What is the Outdoor Recreation Satellite Account?
Measures the economic activity as well as the sales or receipts generated by outdoor recreational activities, such as fishing and RVing. These statistics also measure each industry's production of outdoor goods and services and its contribution to U.S. GDP. Industry breakdowns of outdoor employment and compensation are also included.
Contact Personnel
News Media

Jeannine Aversa