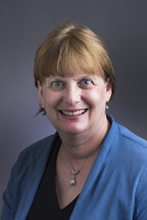 Mary Bohman is the Deputy Director of the Bureau of Economic Analysis.
Dr. Bohman works with BEA's executive team to expand the agency's statistical programs and to shape the highest priority research projects in furthering BEA's mission.
Before joining BEA, Dr. Bohman spent more than 20 years with the Department of Agriculture in numerous positions, leaving her mark on research involving international trade, farm competitiveness, and data-driven policymaking.  She most recently served as associate administrator of the Department's Animal and Plant Health Inspection Service, where she was responsible for protecting American agriculture from pests and diseases.
Prior to that, Dr. Bohman was the administrator of USDA's Economic Research Service, where over a seven-year period she led initiatives to strengthen the quality of the agency's research and statistics, increase accountability through the development of metrics, and boost employee engagement through improved communications.
Dr. Bohman received a doctorate from the Department of Agricultural Economics at the University of California, Davis, and earned a bachelor's degree from Georgetown University's School of Foreign Service.