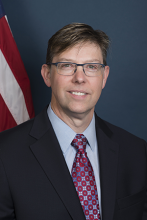 Brian C. Moyer is Director of the Bureau of Economic Analysis.
Dr. Moyer oversees BEA's production of official economic statistics, which provide a comprehensive, up-to-date picture of the U.S. economy that aids in decision making by businesses, policymakers and households.
Before he became Director, Dr. Moyer served in several key positions at BEA, including as the agency's Deputy Director and as Associate Director for Industry Accounts. He is the author of numerous articles on measuring the performance of the U.S. economy. Much of his research has focused on improving industry-related statistics, including improved industry measures of volume and prices, expanded information on the sources and uses of intermediate purchases by industry, and improved industry-level productivity statistics. Dr. Moyer is an active participant in national and international efforts to improve economic statistics at the United Nations, the Organization for Economic Cooperation and Development, and other official forums.
Dr. Moyer has received a number of awards, both for his management and leadership skills, as well as for improvements to BEA's economic accounts. Dr. Moyer holds a Ph.D. in economics from the American University.
Visit the Director's page for key information about the agency and selected materials on BEA's activities.