Gross Domestic Product (Third Estimate), Corporate Profits (Revised Estimate), and GDP by Industry, Third Quarter 2021

Real gross domestic product (GDP) increased at an annual rate of 2.3 percent in the third quarter of 2021, following an increase of 6.7 percent in the second quarter. The increase was revised up 0.2 percentage point from the "second" estimate released in November. The deceleration in real GDP in the third quarter was led by a slowdown in consumer spending. A resurgence of COVID-19 cases resulted in new restrictions and delays in the reopening of establishments in some parts of the country. In the third quarter, government assistance payments in the form of forgivable loans to businesses, grants to state and local governments, and social benefits to households all decreased.

Profits from current production (corporate profits with inventory valuation and capital consumption adjustments) increased 3.4 percent at a quarterly rate in the third quarter after increasing 10.5 percent in the second quarter.

Private goods-producing industries decreased 5.5 percent, private services-producing industries increased 3.9 percent, and government increased 5.1 percent. Overall, 14 of 22 industry groups contributed to the third-quarter increase in real GDP.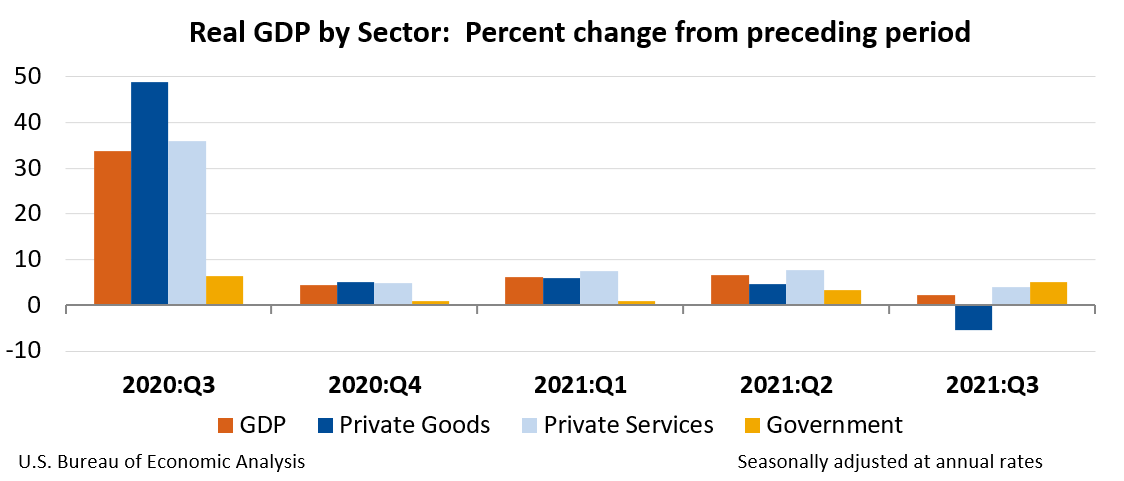 An industry-by-industry breakdown of gross domestic product. In addition to showing each industry's contribution to the U.S. economy, known as its value added, these statistics include industries' compensation of employees, gross operating surplus, and taxes.
Contact Personnel
GDP by Industry

Thomas Howells
News Media

Jeannine Aversa