April 16, 2012
BEA Director Steve Landefeld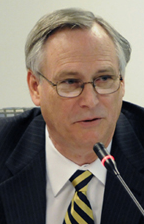 Steve Landefeld has served as Director of the Bureau of Economic Analysis since 1995. Before he took over as Director, Dr. Landefeld served in other capacities at BEA including Deputy Director and Associate Director for International Economics. While at BEA, Dr. Landefeld has led a number of pioneering statistical and management initiatives that have been recognized nationally and internationally. Prior to coming to BEA, he served as Chief of Staff for the White House's Council of Economic Advisers.
I enjoy being a part of an agency that produces the data that play such an important role in helping inform our country's economic policy. Decisionmakers in both the private and public sectors rely on insights into the functioning of the economy provided by BEA. We produce some of the world's most important and closely watched economic statistics.
One of our biggest challenges is keeping pace with a constantly changing economy.  As commerce becomes more global and complex, it's vital that we improve our current measurement systems and introduce new ones to ensure that we provide a clear picture of what is happening economically in America.  Over the years, BEA has implemented many innovations, but we know we must continue to come up with new measures to better understand business cycles, the sources of income growth, and the sustainability of trends.
One of the things I'm very interested in doing is expanding our measurements to better describe how the economy relates to the experiences of everyday people.  For example, we are currently working on a health care project that will more accurately measure spending on health care.  We're also proposing a new suite of measures that will include distribution of income, spending, debt, saving, and wealth.  Measures of discretionary income on a national basis and inflation-adjusted measures of state personal income that reflect cost-of-living differences across states are part of that initiative.
We believe this will help the public relate economic data to their personal experiences.  That will keep the data we produce at BEA relevant to the American people and help us continue our mission of promoting a better understanding of the economy with the timeliest, most relevant, and accurate economic data in an objective and cost-effective manner.