July 13, 2016
This is a guest blog by John H. Thompson, Director of U.S. Census Bureau
Later this month, the U.S. Census Bureau will release the first-ever Advance Economic Indicators Report. Last July, we began issuing the Advance Report: U.S. International Trade in Goods in order to release international trade data to the public as quickly as possible. Continuing our commitment to make our quality statistics as accessible and timely as possible, this new report will expand the advance report by including advance monthly retail and wholesale trade inventories for select aggregate levels in addition to the advance international trade data.
Business leaders, policymakers and other data users rely on Census Bureau statistics to make important decisions. These advance estimates not only give them earlier access to a "snapshot" of key economic data, but also provide more quality inputs for calculating our nation's Gross Domestic Product (GDP). The new Advance Economic Indicators Reportwill allow the Bureau of Economic Analysis to make a more precise initial estimate of this major economic indicator, and potentially reduce the size of later revisions. When BEA began incorporating our advance trade report into the advance estimate of GDP last year, it reduced revisions to GDP, on average, by 0.1 to 0.2 percentage points – or by $6 billion – on an annualized basis.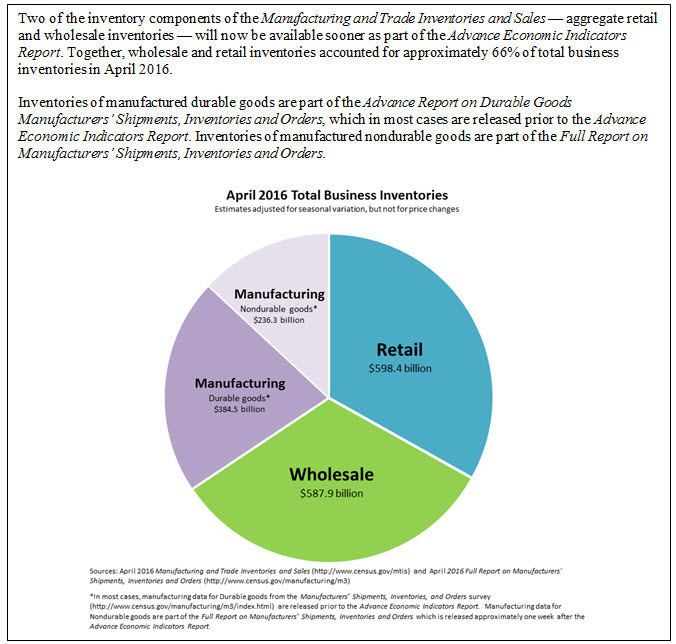 The Census Bureau is constantly looking for ways to improve your access to our statistics, and this new report is a great example of our dedication to releasing the timeliest, accurate and most trusted information about our nation's economy. We will continue to identify other quality indicators that are suitable for acceleration to expand the Advance Economic Indicators Report.
The first Advance Economic Indicators Report will be available on July 28 at <www.census.gov/econ/indicators/index.html>.