February 8, 2018
BEA's first look at the outdoor recreation economy is coming Feb. 14, but you can get a sneak peek right now at what the statistics will cover.
We've posted the blank data tables on the Outdoor Recreation Satellite Account page of bea.gov. Glance over the tables to see how BEA will present its prototype statistics on activities like camping, hunting and boating, as well as related production by industries, such as retail trade, manufacturing and construction.
Our first experimental numbers and a news release will be posted on bea.gov on Wednesday, Feb. 14, at 8:30 a.m. Eastern time, marking a milestone in BEA's project to measure the size and growth of the outdoor recreation economy in the United States.
The new data will provide businesspeople, policymakers and the public a detailed look at outdoor recreation's economic effects – contributions that otherwise would remain obscured within BEA's broader national statistics, such as gross domestic product (GDP).
The statistics will include gross output by activity – essentially a measure of sales related to biking, sailing, RVing and other outdoor activities.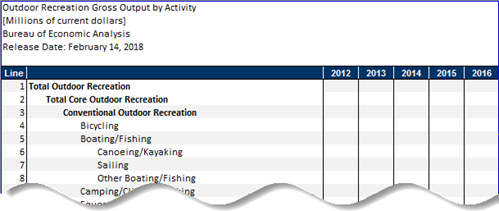 Outdoor recreation's impact on industries will be measured four ways:
Value added – the industry's contribution to the U.S. economy, or GDP, related to outdoor recreation
Gross output – in essence, a measure of outdoor recreation-related sales
Employment – the number of jobs related to outdoor recreation
Compensation – wages and benefits paid to those employees.
There are lots of ways to define "outdoor recreation." With input from industry, government and academia, BEA has developed prototype statistics reflecting both a conventional, narrower definition and a broader one.
In the gross output by activity table, you'll see outdoor recreation activities divided into two categories:
Conventional outdoor recreation – activities that require some level of intentional physical exertion and occur in natural environments, such as snowboarding, canoeing or hiking.
Other outdoor recreation – activities that fall outside the conventional definition but are undertaken for pleasure and occur outdoors, such as playing field sports or visiting water parks.
Together, these two groups form BEA's "core" outdoor recreational activities. In addition, data will be provided for "supporting" goods and services, which help provide access to outdoor recreation – construction, trips and travel, and government spending.
All of the account's statistics will be in current dollars, covering the years 2012-2016.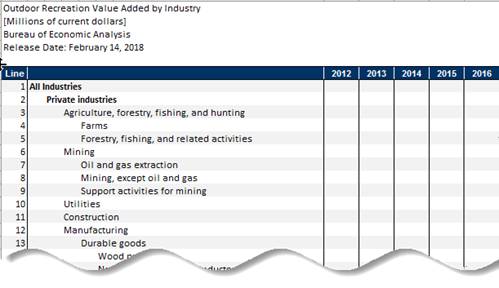 After releasing these prototype statistics, BEA will gather more feedback to help finalize the definitions, data sources, methodology and presentation it will use when measuring outdoor recreation. Release of final statistics is planned for the fall of 2018. You can add your comments or ask questions by emailing outdoorrecreation@bea.gov.
The outdoor recreation account was established by a 2016 federal law. More information about this project is available on BEA's website.