December 17, 2018
The estimates of gross domestic product for the U.S. Virgin Islands show that real GDP—GDP adjusted to remove price changes—decreased 1.7 percent in 2017 after increasing 0.9 percent in 2016. For comparison, real GDP for the United States (excluding the territories) increased 2.2 percent in 2017 after increasing 1.6 percent in 2016.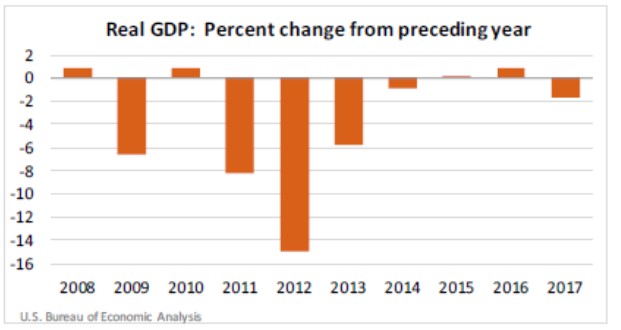 The U.S. Virgin Islands suffered extensive damage from two major hurricanes in September 2017.  These hurricanes affected the availability of various source data used in the estimation of USVI GDP, including financial statements for the territorial government and its independent agencies.
The decline in the USVI economy reflected decreases in exports of services and consumer spending. These decreases were partly offset by an increase in investment spending.
Exports of services, which consists primarily of spending by tourists, decreased 16.0 percent, after increasing for 5 consecutive years. Tourism arrivals decreased 24.1 percent; arrivals fell significantly in the months following Hurricanes Irma and Maria. Consumer spending also decreased, 
reflecting widespread declines in household purchases of goods and services, including motor vehicles, food, housing and electricity, and health care.
Private sector inventory investment increased, reflecting increased storage capacity at an oil storage terminal on St. Croix. Construction spending by the territorial government increased, reflecting hurricane recovery work.
Federal government spending also increased significantly due to disaster response activities, including a U.S. Army Corps of Engineers' mission to install temporary roofs on homes, schools, and the St. Thomas airport.

These estimates were developed under the Statistical Improvement Program funded by the Office of Insular Affairs of the U.S. Department of the Interior. For more information, read the full report.