These data have been superseded. Please see our
latest releases
for current estimates and contact information.
EMBARGOED UNTIL RELEASE: 8:30 A.M. EST, Thursday, November 15, 2018
BEA 18-63
Local Area Personal Income

New Estimates for 2017; Comprehensive Updates for 2001-2016
Personal income increased in 2,787 counties, decreased in 318, and was unchanged in 8 in 2017, according to estimates released today by the U.S. Bureau of Economic Analysis (BEA). Personal income increased 4.5 percent in the metropolitan portion of the United States and increased 3.2 percent in the nonmetropolitan portion in 2017. The change in personal income ranged from -41.4 percent in Slope County, North Dakota to 23.7 percent in Crosby County, Texas in 2017 (BEA interactive data).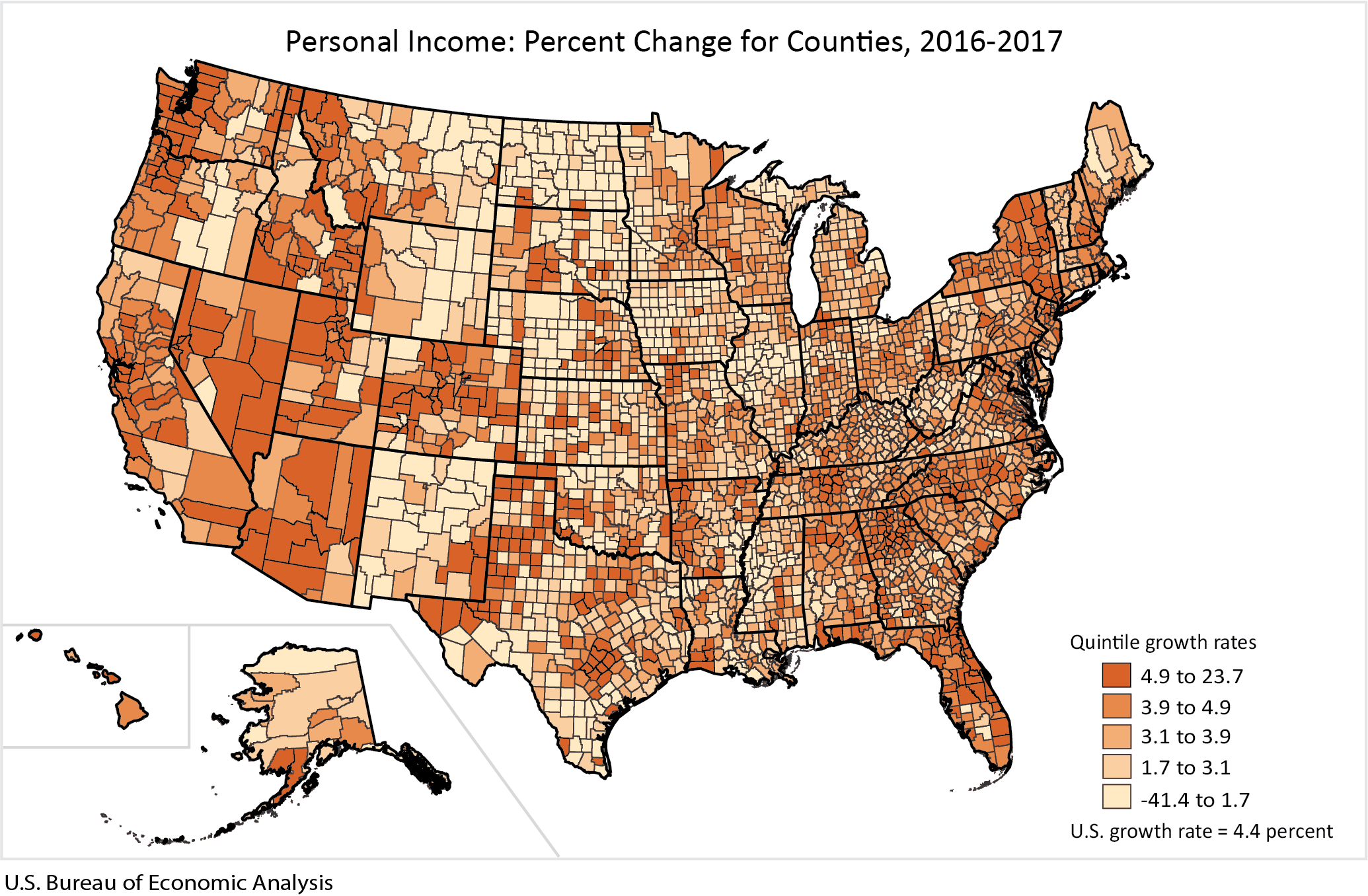 Personal income is the income received by, or on behalf of, all persons from all sources: from participation as laborers in production, from owning a home or unincorporated business, from the ownership of financial assets, and from government and business in the form of transfer receipts. It includes income from domestic sources as well as from the rest of the world.
The total dollar levels of personal income ranged from $6.1 million in Loving County, Texas to $593.7 billion in Los Angeles County, California in 2017.
Per capita personal income–personal income divided by population–is a useful metric for making comparisons of the level of personal income across counties. Table 1 presents estimates of per capita personal income by state and county. In 2017, it ranged from $11,937 in Issaquena County, Mississippi to $233,860 in Teton County, Wyoming. Per capita personal income exceeded $100,000 in 12 counties: Teton, Wyoming; New York, New York; Pitkin, Colorado; Bristol Bay, Alaska; Marin, California; Summit, Utah; San Francisco, California; Nantucket, Massachusetts; San Mateo, California; Fairfield, Connecticut; Blaine, Idaho; and Westchester, New York.
The county personal income estimates released today continue the successively more detailed series of data releases from BEA depicting the geographic distribution of the nation's personal income for 2017. National estimates of personal income for 2017 were first released in January 2018, followed by preliminary state personal income estimates in March. The personal income estimates released today provide the first glimpse of personal income for 2017 in counties and metropolitan statistical areas. The geographic picture will be completed with the release of real personal income for states, metropolitan areas, and state metropolitan and nonmetropolitan portions on May 16, 2019.
Comprehensive Update of Local Area Personal Income
The estimates of 2017 local area personal income released today incorporate the results of BEA's comprehensive update of local area personal income for 2001-2016. The comprehensive update incorporates source data that are more complete and more detailed than previously available, updates to methodologies, the results of the July 2018 comprehensive update of the National Income and Product Accounts, and the results of the September 2018 comprehensive update of state personal income.
Today's release is limited to local area personal income for 2001-2017 on the North American Industry Classification System (NAICS). Revised Standard Industrial Classification local area personal income estimates for 1969-2000 will be released in early 2019.
****
Next release: May 16, 2019 at 8:30 A.M. EDT – Real Personal Income for States and Metropolitan Areas, 2017